our bodies are masterpeaces
The wisdom of our 10 bodies
is teaching us how to grow,
heal and live in harmony.

Let's practice what they teach.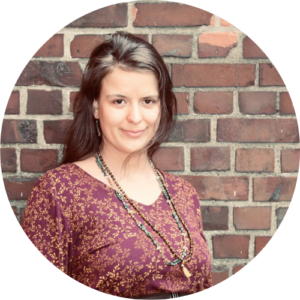 I'm an international social worker, peace researcher and kundalini yoga teacher. But really, I'm just here to be and to build peace – from my own body to the collective.

I work as a coach, consultant and trainer with individuals and organizations who are passioante about contributing to a more peaceful world; who are looking for holistic theories and practices of change to deepen and embody the impact of their mission.
In my work, I weave together somatics, yogic science and socio-political analysis into a unique methodology of personal, organisational and collective transformation.
It is my greatest joy to guide you on the path of embodying your own expression of a culture of peace.
Love,
Franka
at home in our bodies:
in touch with the world.
About the 1:1 Somatic Sessions I offer:
"I had the most beautiful and grounding session with Franka. She softly led me through the mystery of my body into the layers of knowledge that were not visible to my consciousness. It was a profound journey, that left me incredibly grounded in my own bones.

I'm very grateful Franka! Thank you for giving the Unseen in me a voice. Your voice and the space you hold are magnificent. I highly recommend you."

"When I came to the somatic session with Franka, I was in the middle of a long and ongoing process full of feelings and thoughts related to my father recently passing away after he had suffered from illness for years. What I particularly liked about this session was that Franka created a soft, gentle, and open space where I was invited to bring exactly this complexity of grief that I was present with - both as little and as much as I wanted. There was no pressure to find certain solutions or answers...
I left the session feeling calm and grounded. I recommend somatic sessions with Franka to anyone who is curious and willing to let embodied wisdom guide, whether one comes with huge questions or one just needs time to be present with what is."